Electrical Contracting
Radis Electric is a full-service electrical contractor with a dependable team of highly qualified electricians. Our service technicians have an average of 18+ years of experience and can troubleshoot any electrical problem. We utilize fully-stocked service vehicles and always offer competitive rates.
The Radis Electric team is proficient in all traditional electrical systems as well as the newest technologies including state-of-the-art electronic home automation systems. Our service mechanics are extremely knowledgeable and can take care of all of your electrical needs both large and small.
In-House Design and Engineering
Radis Electric also offers in-house consulting, design and in-house engineering services for electrical systems. We personally oversee every schematic to ensure fast and efficient design-build services.
Radis Electric doesn't just design electrical systems, our top management stays involved with all phases from start to finish and sees the projects through to working systems.
Where Radis Electric really shines is providing you with the best product at the best possible price. Our project managers and estimators have extensive knowledge of state-of-the art products and our labor is always priced competitively.
Privacy and Security
Radis Electric has provided service to an extensive list of high-profile clients in Santa Barbara, Hope Ranch and Montecito since 1982. Our highest priority is protecting the privacy and security of all of our customers.
We Stand By Our Work
Radis Electric is licensed, bonded and insured, and we back all of our work with a one-year warranty in addition to all manufacturer's warranties.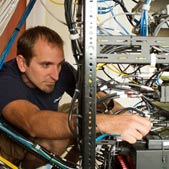 Electrical Services Offered By Radis Electric:
Electrical Contracting – Full service electrical contractor with in-house design-build team. Home wiring, remodels, panel upgrades, circuit additions, troubleshooting and hazard repair. Residential and commercial projects.
Home Automation Systems – Control your lights, music, movies,
temperature and security system from anywhere in your home or anywhere in the world. State-of-the-art controls result in ease of use and energy efficiency. No pre-wiring is required on many systems.
Gates / Automated Entry Systems – We design and install a full range of gate operating systems including slide gates, pad-mount swings, in-ground swing gate operators. Integrated intercom systems and surveillance camera options further enhance home security.
Lighting – Interior lighting, recessed lighting, track lighting, under-cabinet, cove and counter lights, island down lights, art lighting. Exterior and landscape lighting. Security lighting. Whole-home lighting control.
Automated Shading Systems – Comfort, convenience and energy savings with Sivola QS shading systems. Increase privacy while preserving your view. Automated window treatments are available in many styles, fabrics and designs.
Entertainment Systems – Televisions, stereo systems, audio/video, home theaters, whole-home connectivity and automated control systems for residential and commercial spaces.
Network Systems Wiring – Telephone, cable, computer, audio/video systems; home theater, integrated telephone and intercom systems.
Floor Heating Systems – Enjoy the comfort of warm floors with electric floor heating systems for tile, stone, laminate and engineered wood floors. Heaters come in a variety of styles and control options. Premium brands include Nexen, Nuheat and Sun Touch.
Patio Heating – Outdoor dining areas and patios benefit from outdoor electric radiant heaters. Optimize your living space even during colder weather with patio heating systems. Premium brands include Infratech and Thermofilm.
Cables/Utilities – Underground utility services/installation – Data cabling, generator installations.
Surveillance Systems – Security systems. Home monitoring through computerized home automation systems from anywhere in the world.
Access Control Systems – We design and install a full range of access and entry control systems for apartment buildings, banks and other commercial sites.
Design – Full-service design capabilities for home electrical systems, home automation systems and gate operating systems.